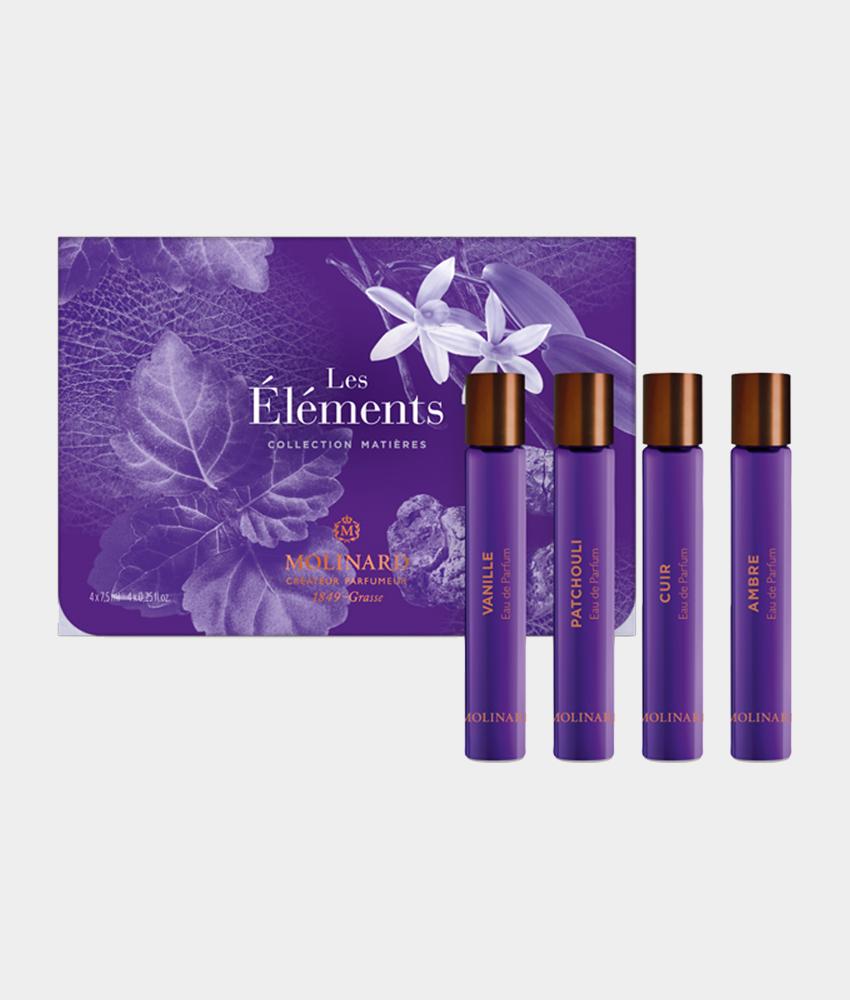 Elements Collection Oriental Travel Set
Size: 4 x 7.5ml
This product is currently sold out.
Through the years, driven by the quest to capture the most emblematic perfumery raw materials on Earth, Les Eléments collection has offered a unique, unending journey of scent. Why not discover this elements collection oriental travel set which contains 4 x 7.5ml roll ons of: Vanille, Patchouli, Cuir and Ambre. The Molinard roll ons have a delicate ball applicator and can be applied to the wrist, neck and back of the ears.
Discover more about Molinard here
Vanille
Head Notes: Vanilla Flower
Heart Notes: Vanilla Pod
Base Notes: Vanilla and Benzoin

Patchouli
Head Notes: Neroli, Orange and Geranium
Heart Notes: Patchouli
Base Notes: Musk, Sandalwood and Vanilla

Cuir
Head Notes: Nutmeg, Bergamot and Verbena
Heart Notes: Saffron, Chilli and Lavender
Base Notes: Leather, Oud, Sandalwood, Musk and Patchouli

Ambre
Head Notes: Myrtle, Coriander and Thyme
Heart Notes: Amber, Incense and Labdanum
Base Notes: Sandalwood, Musk and Tonka Bean

*Please note all orders come hand wrapped in tissue paper however wrapping paper, ribbon and Christmas decorations are a £3 additional charge and can be added when choosing shipping options.