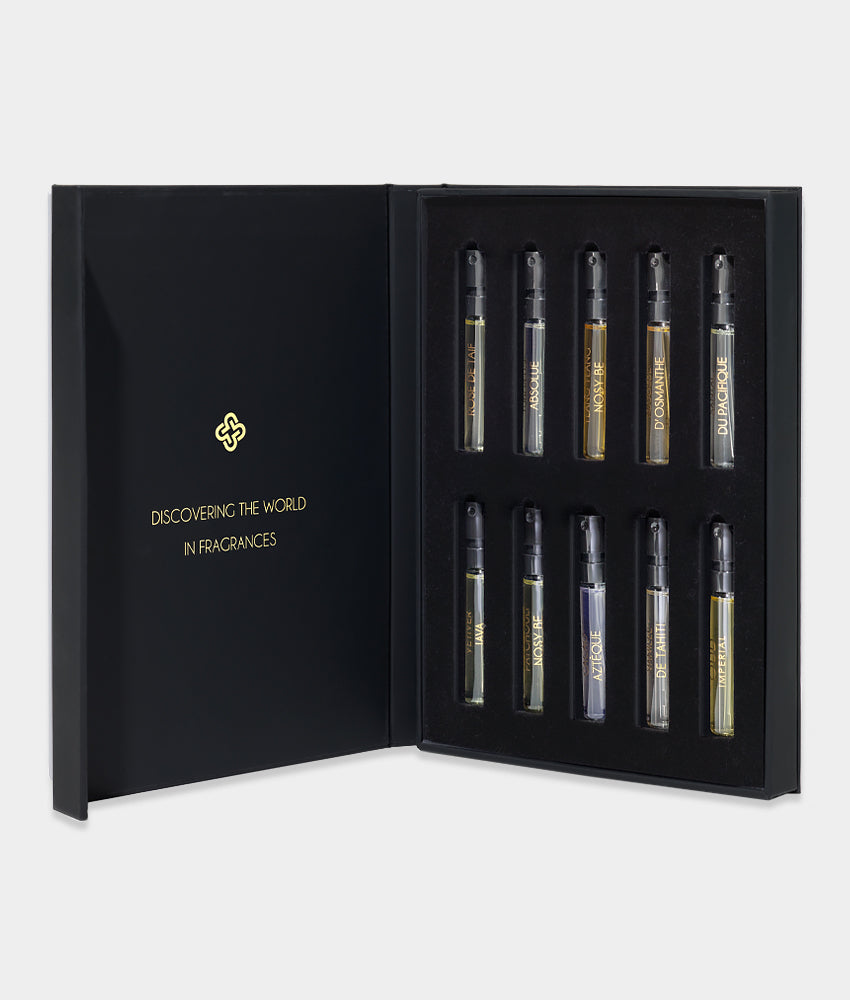 Black Collection Discovery Set
This product is currently sold out.
Perris Monte Carlo Black Collection discovery set; Explore the entrancing world of Perris Monte Carlo. The black collection Eau de Parfum discovery set will help you find your perfect match! Inside you'll find 2ml samples of Oud Imperial, Rose de Taif, Patchouli Nosy Be, Ylang Ylang Nosy Be, Absolue D'Osmanthe, Santal du Pacifique, Tubereuse Absolue, Cacao Azteque, Vanille de Tahiti and Vetiver Java. 

Discover more about Perris Monte Carlo here
Absolue D'Osmanthe
Head Notes: Osmanthus, Plum and Baie Rose
Heart Notes: Sambac Jasmine and Tolu Balm
Base Notes: Labdanum, Vanilla, Dry Woods and Sandalwood

Cacao Azteque
Head Notes: Black Pepper, Pink Pepper and Cardamom
Heart Notes: Rhum Absolute, Orchid Pittosporum and Tuberose
Base Notes: Sandalwood, Cacao and Musk

Oud Imperial
Head Notes: Jasmine, Cumin and Citrus
Heart Notes: Incense, Patchouli, Saffron and Papyrus
Base Notes: Sandalwood, Natural Oud, Cedarwood, Labdanum, Vetiver and Birch

Patchouli Nosy Be
Head Notes: Lemon
Heart Notes: Shinus Molle
Base Notes: Patchouli Nosy Be, Vanilla, Musk, Cedarwood, Amber and Sandalwood

Rose de Taif
Head Notes: Lemon, Nutmeg and Geranium
Heart Notes: Rose de Taif
Base Notes: Patchouli Nosy Be, Vanilla, Musk, Cedarwood, Amber and Sandalwood

Santal du Pacifique
Head Notes: Carrot
Heart Notes: Orchid, Violet and Gurjum Balsam
Base Notes: Sandalwood, Fry Woods and Musk

Tubereuse Absolue
Head Notes: Bergamot, Cardamom, Lavender and Galbanum
Heart Notes: Tuberose, Sambac Jasmine and Gardenia
Base Notes: Orange Blossom, Cedarwood, Vetiver and Musk

Vanille de Tahiti
Head Notes: Ylang Ylang and Champaca
Heart Notes: Vanilla Tahitensis
Base Notes: Amber, Sandalwood and Musk

Vetiver Java
Head Notes: Bergamot from Calabria, Grapefruit and Timur Pepper
Heart Notes: Geranium Absolute and Vetiver from Java
Base Notes: Amber and Musk

Ylang Ylang Nosy Be
Head Notes: Lemon and Mint
Heart Notes: Ylang Ylang, Rose and Sambac Jasmine
Base Notes: Vanilla and Musk

*Please note all orders come hand wrapped in tissue paper however wrapping paper, ribbon and Christmas decorations are a £3 additional charge and can be added when choosing shipping options.